25th Annual Athletic Meet at Kamla Lohtia S.D. College, Ludhiana
A magnificent Opening with flying of tri-coloured balloons, well organized march past, commanding beats of the band, thrilled students, wide spread enthusiasm and applause became the hallmark of the beginning of 25th Annual Athletic Meet at Kamla Lohtia S.D. College, Ludhiana on 23rd February, 2018 organized under the able command of Dr. Rohit Kumar, Head, Dept. of Physical Education. Sh. Surinder Dawar,M.L.A. Ludhiana was the Chief Guest for the opening ceremony. After the sacred ceremony of flag hoisting, Sh. Dawar declared the Athletic Meet open. Principal Dr. Shiv Mohan Sharma along with Sh. Dharam Pal Jain, President, College Managing Committee, Sh. R.D. Singhal, Sr. Vice President, Sh. Brij Mohan Ralhan, Vice President, Sh. Sandeep Aggarwal, Vice President, Sh. Sunil Aggarwal, General Secretary and Sh. Sandeep Jain, Manager, welcomed the chief guest. A student torch bearer carried an ignited torch symbolizing the spread of light, energy and awareness on the way to his run in the Athletic Meet. Principal Dr. Shiv Mohan Sharma highlighted the achievements of the college on academic, sports and co-curricular front and asserted that sports contribute a lot in building up of the personality. In his inaugural address, Sh. Surinder Dawar focused upon the essentiality of sports in the present times. He also exhorted the students to remain attached with their cultural roots and serve the society.
Sports events like races, long jumps, Javelin Throw and shot-put invited whole hearted participation of around 350 students from various streams. A colorful Bhangra performance by students and tug of war between teachers made the whole environment exhilarating. S. Teja Singh Dhaliwal, Senior Vice President, Basketball Fedreation of India was the Chief Guest for the Closing Ceremony. The chief guest felicitated the college Principal and Managing Committee for holding such purposeful events and termed such Athletic meets as a medium for channelizing positive energy among young minds. Prominent among those present were Sh. Dhari Shah Singla, Sh. Abhishek Aggarwal,Sh. Vinay Adya, Sh. Lakhbir Singh,Sh. Sanjay Jindal, Executive Members, Sanatan Dharam Sabha, alongwith Prominent Alumni of the College Mr. Lalit Kumar, a successful Businessman & Vice President, World Body Building Federation and Mr. Vishal Bansal, a successful Businessman & Vice President, CIICU, Mr. Chetan Batta, General Manager, Shipping Board of India. The presence of Foreign Dignitaries from Lithuania, Edmundas Daubaras, Chanceller, International Sports University (recognized by UNSECO) and President, World Bodybuilding Federation alongwith his Wife Regina added the grace to the occasion. Arshdeep Singh of B.A.I and Ruchika of M.A. II were declared Best Athlete (Boys) and Best Athlete (Girls) respectively. Trophies and certificates were awarded to winners of First, Second and Third positions in various events.
Details of the results and photographs are attached herewith.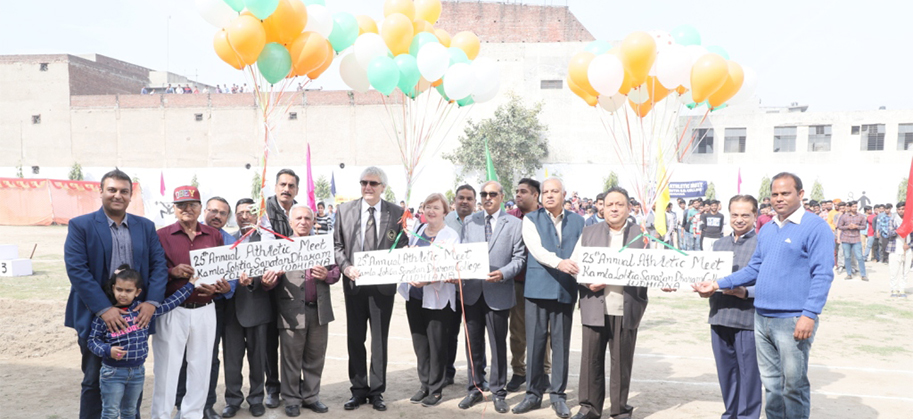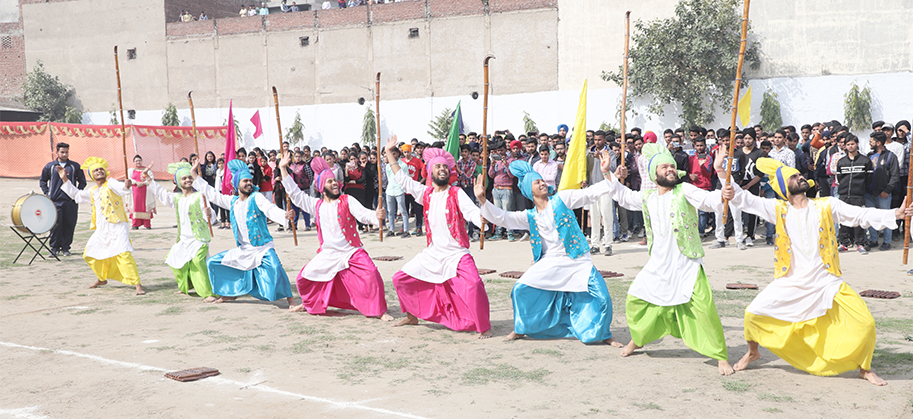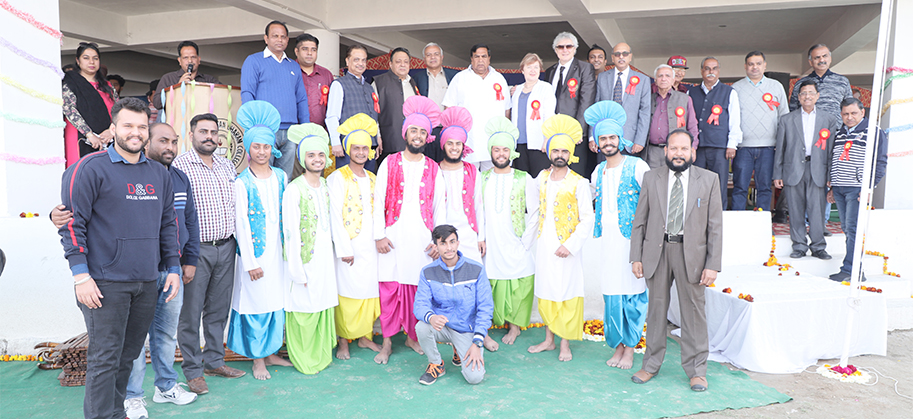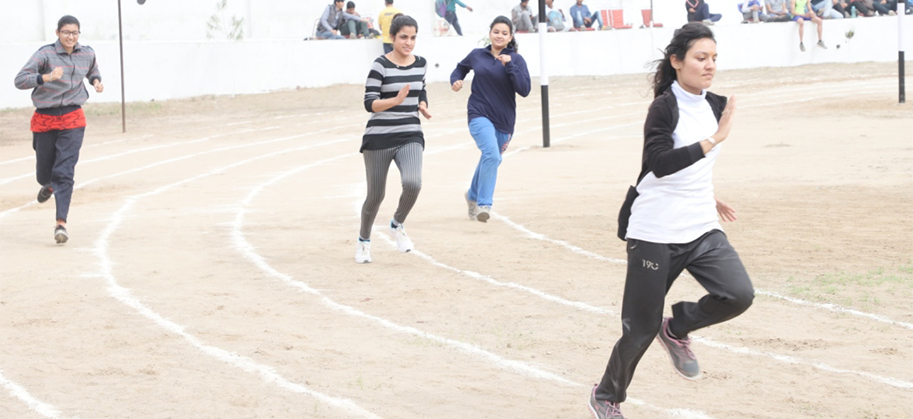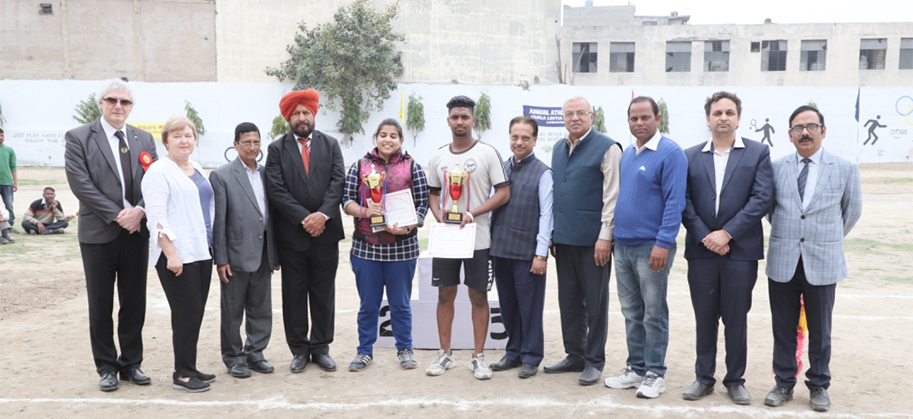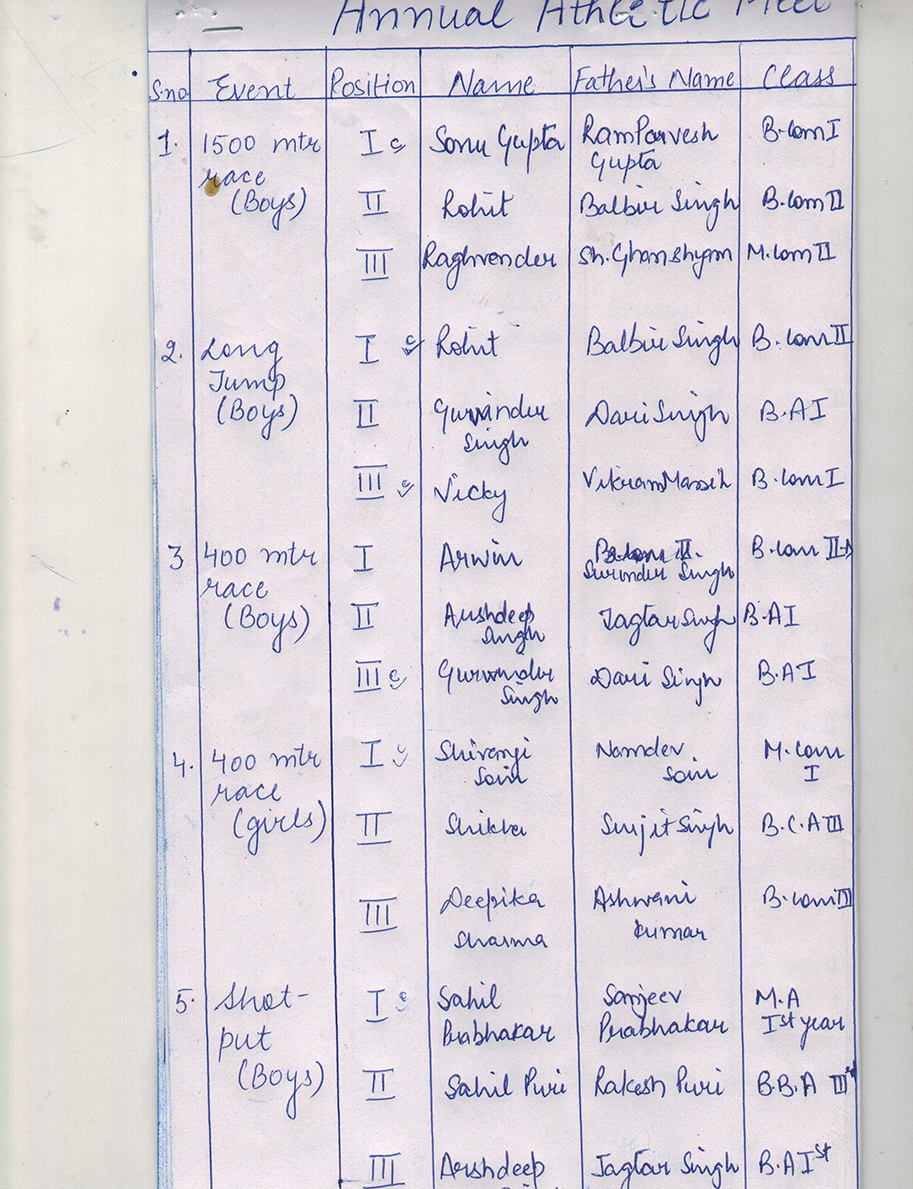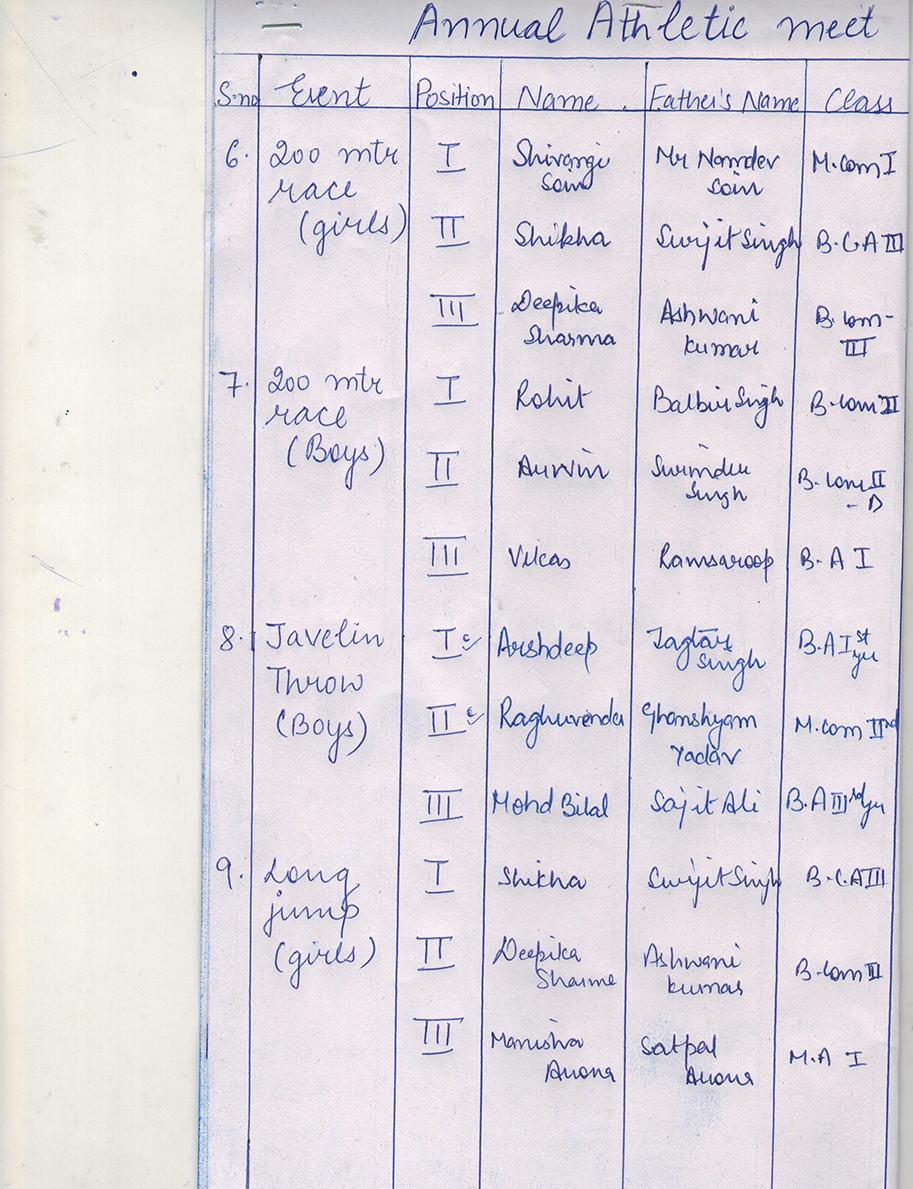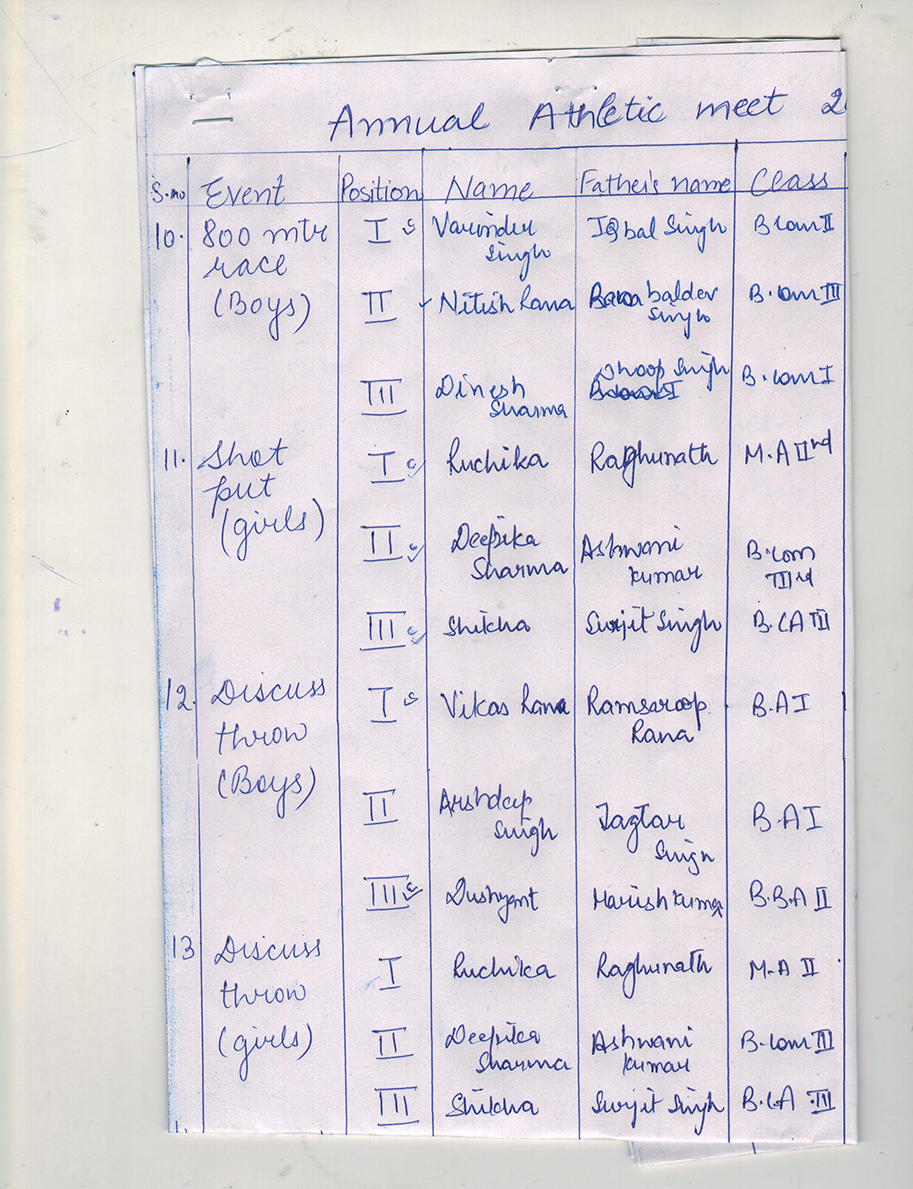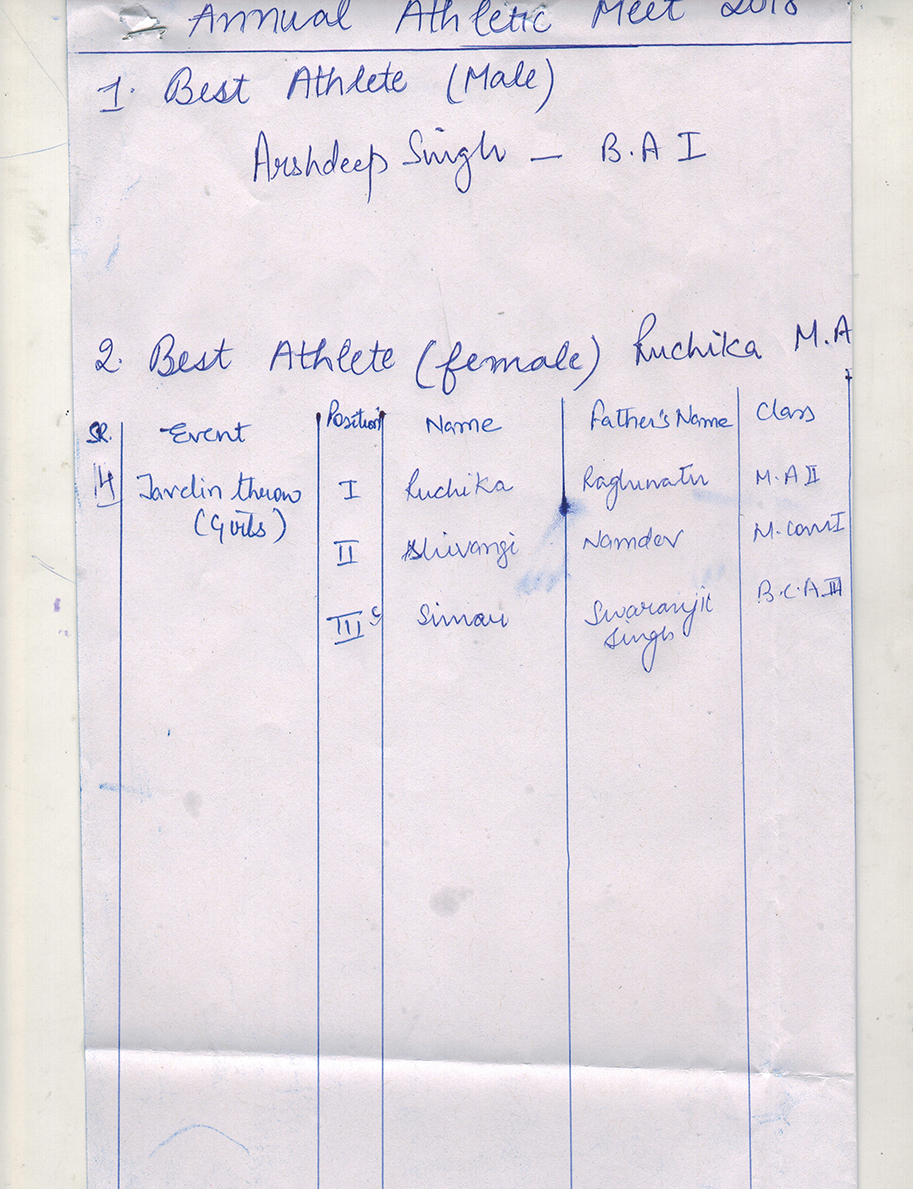 Posted By admin on March 13, 2018