Faculty of Arts and Languages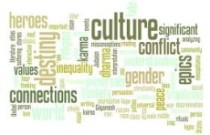 Faculty of Arts and Languages has always been an indispensable part of the College Academics since the establishment of Kamla Lohtia Sanatan Dharam College in 1992. Constant Endeavour has been there to create conducive environment for imparting Language Skills to improve, develop and channelize human capital so that our seats of knowledge get strengthen for recognized name.
Humanities Group comprises of various subjects taught by various Departments such as Department of English, Department of Punjabi, Department of Physical Education , Department of History, Department of Hindi, Department of Political Science, Department of Economics and Department of Computer Science.
A conspicuous contribution is visualized through teaching of English and Punjabi as Compulsory and Elective Subjects in B.A., B.Com, B.B.A and B.C.A Classes.
An Add-on Course, "Functional English" provides ample opportunities to learn the basic know-how of Spoken and Communicative English in fully equipped "Functional Laboratory" run by Department of English.
Other Elective subjects offered to students of B.A. 1st year, B.A. 2nd year and B.A. 3rd year (in Semester System) are History, Political Science, Physical Education, Economics, Computer Science, Hindi, and newly introduced Sociology. Physical Education as a subject provides full scope to students for excellence in sports. Department of Physical Education outshines with winners of Gold, Silver, Bronze Medals at District, State and National Level Championships.
Languages and Social Sciences promote Creativity and Social Sense. Overall Development of personality of young learners in cultural milieu is achieved through Paper Reading Contests, Debate and Declamation Competition, Quiz Contests, Creative Writing Contests, Poem Recitation Competition at Class level, College level and University level (P.U. Zonal and Youth Heritage Festivals). Aspiring students are motivated to utilize these skills for their Personal Growth, Interactions, Interview Sessions and finally Job Placements under the superb guidance of their guides, their teachers, the learned and highly qualified faculty members. The College Magazine "Achyut" is manifestation of writing skills of the students in all three languages: English, Punjabi and Hindi. College Managing Committee, Principal and all the Heads of the various Departments Arts/ Languages are all geared up for the expansion of Humanities Group.