M.Sc. IT
1. The duration of the course leading to the degree of Master of Science in Information Technology (M.Sc. (IT) shall be of two academic years. Each year shall be divided into two semesters. The examination for the first and the third semesters will be held in the month of December/January, the examination for the second & fourth semester will be held in the month of April/May or on such dates as may be fixed by the Syndicate.
2. A person who has passed one of the following examinations shall be eligible to join Part-I (First year) class of the course:-
B.C.A. Examination from the Panjab University or B. Tech. or B.E. Computer Science from any other University recognised by the Syndicate as equivalent thereto.
3. The medium of examination shall be English.
4. Every candidate shall be examined according to the syllabus prescribed by the University from time to time.
5. The minimum number of marks required to pass the examination shall be –
(a) 40% in each written paper,
(b) 40% in internal assessment / viva voce / seminar / project; and
(c) 50% in the aggregate of (a) and (b) above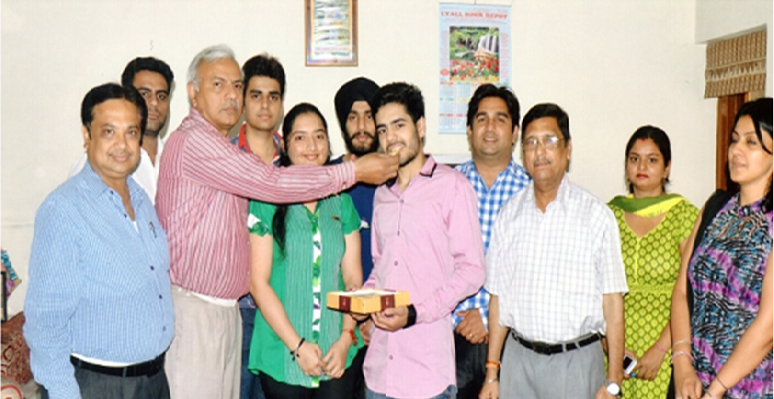 SUBJECTS OFFERED
SEMESTER-I
MS-66 Linux Administration and Programming
MS-61 Software Engineering
MS-62 Computer Algorithms
MS-42 Operating System Concepts
MS-63 Minor Project Based On MS-66
MS-64 Minor Project Based On MS-62
SEMESTER-II
MS-45 Advance Java and Network Programming
MS-65 E-Commerce and Emerging Trends
MS-60 Advance Database System and MySQL
MS-67 Artificial Intelligence
MS-27 Seminar
MS-56 Minor Project Based On MS-45 & MS-60
MS-49 Minor Project Based On MS-67
SEMESTER-III
MS-32 .NET Framework and C#
MS-69 Theory of Computation
MS-39 Computer Graphics
MS-14 System Approach to Mgmt. & Optimization Techniques
MS-18 Seminar
MS-33 Minor Project Based On MS-32
MS-59 Minor Project Based On MS-39
SEMESTER-IV
MS-21 Major Project
The Project period wiII be of 6 months duration.
The project wilI involve development of
application/system software in
industrial/commercial/scientific environment.